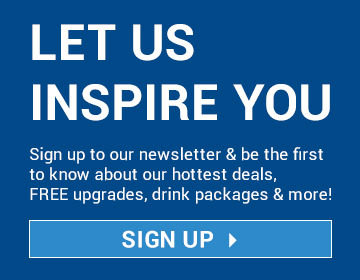 Mexican Riviera Cruises
Cruise to the Mexican Riviera and discover dramatically painted architecture, stunning beaches, lush green rainforests and a vibrant culture. If your idea of a perfect holiday is exploring colonial villages, cliff diving at La Quebrada or simply enjoying a siesta on a white sand beach, a cruise of the Mexican Riviera is for you!
Cruise1st has a great range of cruises, join the adventure of a life time today and browse below!
A Taste of Cruises featuring Mexican Riviera

13nt - Luxury Mexico & Sea Of Cortez
zzMaasdam, 7th Apr 21, 13 nights


11nt - Mexican Riviera & Los Angeles Stay
Majestic Princess, 24th Nov 21, 11 nights


11nt - Mexican Riviera and Los Angeles Stay
Majestic Princess, 1st Dec 21, 11 nights

What The Mexican Riviera Has To Offer
Cruise into Caba San Lucas and encounter Mexico's jewel resort of unspoilt beauty. It boasts many exquisite beaches, one of the best being Chileno Bay where you can enjoy snorkelling in the clear, turquoise waters amongst turtles, manta rays and hundreds of tropical fish. Another highlight is the famous Lovers Beach where the Sea of Cortez meets the Pacific Ocean, this hidden cove features beautiful rocky cliffs that you will just fall in love with.

Explore the stunning natural harbour of Mazatalan where you will find fantastic bargains on beautiful jewellery at one of its many quaint markets, you will find every coloured stone in the world here as well as the rare Mexican fire opal and gorgeous sterling silver. This scenic city offers one of Mexico's premier golf courses in addition to long pristine beaches lined with open air bistros and high-spirited bars, all with the legendary Sierra Madre mountain range as a majestic backdrop.

Acapulco offers four stunning beaches: Los Hornos, Caletilla, Condesa and Caleta, some of the finest on the Mexican Riviera, and offer many chances to indulge in water sports such as sailing and kayaking. While in Acapulco, be sure to sample the local seafood which is simply fantastic!

Other ports of call during a cruise from the Mexican Riviera include Puerto Vallarta where you can get up close and personal with Dolphins at the Dolphin Adventure Centre and Ensenada where you can indulge in the unique art of wine making and of course sample a glass or two! Whatever itinerary you choose, you can be sure that a cruise to the Mexican Riviera will be one of the most stunning cruise experiences you have.