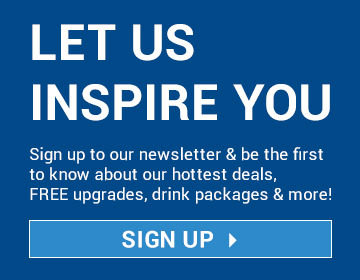 Quantum of the Seas
One of the world's largest cruise ships and part of Royal Caribbean's Quantum class of ships, the Quantum of the Seas will captivate your imagination, engage your senses, and ignite your adventurous Spirit. Boasting a whole host of unique, state-of-the-art facilities and amenities, this magnificent ship will allow you to experience a unique variety of cruising – and trust us, you'll never look back.
A taste of Quantum of the Seas Cruise Deals
Quantum of the Seas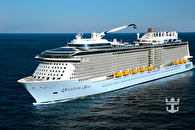 Alaskan Adventure with FREE Seattle
26th Sep 21 - 9 nights
Includes Seattle Stay!
Quantum of the Seas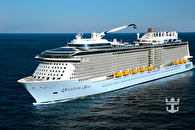 First Passage to the West with Alaskan Adventure
21st Sep 21 - 14 nights
Includes once in a lifetime Rocky Mountaineer tour
A unique cruise experience
With plenty of activities and entertainment options for the whole family to enjoy, the Quantum of the Seas boasts a variety of never-before-seen features, including the world's first at-sea skydiving experience, a huge observation pod raised 300ft above the ocean's surface, and a bar manned by robotic bar tenders.
This breathtaking ship also offers an abundance of entertainment facilities, including the Two70 Lounge – a two deck performance venue backed by huge LCD screens displaying amazing digital visuals. There's also a two-storey music hall and a huge range of dining options to cater for all tastes and palates, including Jamie's Italian, the American Icon Grill, Izumi Japanese Cuisine, and Michael's Genuine Pub.
With a day spa and fitness centre, a FlowRider surf simulator, rock climbing wall, an outdoor cinema screen, Casino Royale, and various shopping venues, there are no end of things to see, do, and explore whilst you're at sea. Quantum of the Seas also boasts a number of virtual balconies that will allow you enjoy unrivalled views of destinations all across the globe.
Explore the delights of Asia
Based in Shanghai, the Quantum of the Seas will allow you take in the unique sights and sounds of some of Asia's most alluring destinations. Explore the local culture, language, and landscape of Fukuoka, Kumamoto, Hiroshima, and Kochi in the ultimate comfort and style.
Onboard Amenities
Day Spa & Fitness Center
Dining Venues
Bars & Lounges
Shopping
Casino Royale
North Star
Ripcord by IFLY
Music Hall
Michaels Genuine Pub
Sorrentos
Slik
American Icon Grill
Royal Theatre
Jamies Italian
The Cafe @ Two70
FlowRider surf simulator
Rock-climbing Wall
SeaPlex
Bionic Bar
Baleros
Outdoor Cinema Screen
Royal Babies (6-18 months)
Virtual Balconies
Izumi Japanese Cuisine
Smart Check-in
Celebrate 50 Years of Royal Caribbean