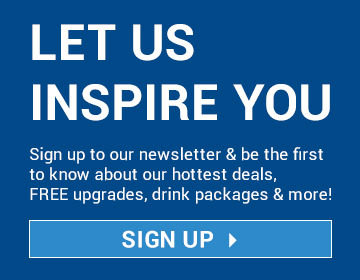 Radiance of the Seas Cruise Deals
Discover the awesome beauty of Australia, the endless stretches of sun-baked beaches, clear blue water and white sand. Visit some of the most famous landmarks in the world, the Sydney Opera house and Sydney Harbour Bridge, and do some serious relaxing in the famously laid back atmosphere. New Zealand offers an incredible landscape of contrasts: from the mountain backdrops to the harbour cities, there is so much to see and do, from extreme sports for the adrenaline junkies to peaceful lakesides, deserted beaches and incredible mountains.
A taste of Radiance of the Seas Cruise Deals
Radiance of the Seas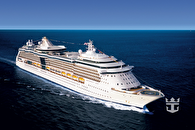 Vancouver, San Francisco & Las Vegas
22nd Sep 21 - 14 nights
Includes Vancouver & Las Vegas Stay
Radiance of the Seas Food and Recreation
Radiance of the Seas was the first gas-turbine vessel in the Royal Caribbean fleet, ushering a new era of faster, more efficient eco-friendly cruise ships. With an exterior constructed of half glass, most of the public rooms onboard feature breathtaking views through floor-to-ceiling glass windows. Launched in 2001, the mid-size ship is 90,090 tons and 962 feet with a capacity of 2,501 passengers. Radiance of the Seas cruises to Alaska, the Western Caribbean, Panama Canal and Central America.

Radiance of the Seas Recreation
Royal Caribbean cruises are fun for guests of all ages and interests. Active cruisers will love the 15,500 sq. ft. ship-shape Spa with magnificent oceanviews. Fitness equipment and classes are available at no additional charge to all passengers. Full spa services are offered in the ship's 12 treatment rooms. For sporty types, the indoor/outdoor country club features a golf simulator, ping-pong, full-sized basketball court, deck games, a 9-hole mini golf course and a jogging track. The Colony Club British-style lounge even has innovative, state-of-the-art billiards tables with self-leveling mechanism. Unique to Royal Caribbean cruises, the rock-climbing wall has five separate climbing tracks depending on skill level and incredible ocean views 200 feet above the sea. The relaxing African-themed Solarium features a swimming pool and two whirlpools and is covered by a retractable glass roof. A wide variety of bars and lounges and the ship's onboard casino offer plenty of opportunities for nightlife. Dancing, comedy, and live music are featured nightly, or simply enjoy cocktails and a magnificent view in the Viking Crown Lounge 11 decks over the ocean. Kids and teens have their own space on the ship in the Adventure Ocean youth facilities.

Radiance of the Seas Food
Royal Caribbean cruises offer delicious, all-you-can-eat cuisine. The main dining room adds an elegant flair to your formal seated dinner with its beautiful staircase, stunning columns, and cascading waterfall. Also open for breakfast and lunch, the main dining room serves a wide variety of foods for all tastes, including healthy and vegetarian options. For fast food and a casual atmosphere, the Windjammer and Seaview Cafes are ideal. Portofino Italian Restaurant and Chops Grille are the ship's specialty dining options. You can also order breakfast and snacks via 24-hour room service.
Suites and Staterooms
A majority of staterooms onboard Radiance of the Seas are exterior with stunning views of the ocean, which means balcony and oceanview staterooms are surprisingly affordable. Cabins in all classes include a private toilet and shower, television, telephones, and WiFi capabilities. The ship's 1,034 square ft. Royal Suite includes 172 square ft. balcony, private wet bar, bathroom with whirlpool tub, bidet, and steam room, 42-inch television, and even a baby grand piano.
Onboard Amenities
Day Spa & Fitness Center
Beauty Salon
Solarium
Three Whirl Pools
Half Basket Ball Court
Optix Teen Centre
Rock Climbing Wall
Nine-Hole Miniature Golf
Jogging Track
Shops & Boutique
Art & Photo Gallery
Champagne Bar
Seattle's Best Coffee
Medical Centre
Business Services
Royal Caribbean Online Centre
Youth Pool
Cinema
Celebrate 50 Years of Royal Caribbean