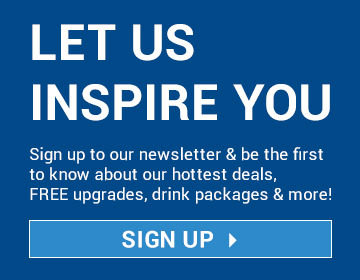 East Coast America Cruises
A cruise from East Coast America offers passengers the chance to enjoy fantastic stay and cruise itineraries to many destinations within easy cruising distance and here at Cruise1st, we can pair up your cruise of a lifetime with a stay in fabulous cities such as New York, Miami, Orlando and many more!
A Taste of Cruises to East Coast of America

10nt -
Colours of Canada New York Stay
MSC Divina, 30th Sep 21, 10 nights
Includes New York city stay

12nt -
Bermuda Escape & New York Stay
MSC Divina, 21st Sep 21, 12 nights
Includes New York city stay
,
*Forget About Tips! Gratuities Included!
,
Book With Confidence - Know You Can Change Your Holiday

15nt -
Caribbean Dreams & New York Stay
MSC Divina, 21st Oct 21, 15 nights
Forget About Tips! Gratuities Included!
,
BOOK NOW FOR JUST £100PP DEPOSIT!

14nt - Carribbean Gems Miami to New York
MSC Divina, 21st Aug 21, 14 nights


24nt -
24 Night No Fly Canada & New England
Regal Princess, 18th Sep 21, 24 nights
Princess Plus - Add Premium Drinks, Unlimited WiFi & Gratuities for £35pppd
,


13nt - British Isles
Queen Victoria, 17th May 21, 13 nights

East Coast Highlights
Cruise from New York and take your pick from itineraries to New England, Canada and the Caribbean. Cruises departing from New York offer you the perfect opportunity to enjoy a pre or post cruise stay in this fantastic city. The port of Cape Liberty is a convenient distance from the Big Apple and allows visitors easy access to everything New York City has to offer.
With so much to do in this fabulous city, you will be spoilt for choice. Visit the iconic Statue of Liberty, climb the Empire State Building and admire the view or just simply enjoy the shopping mecca that is New York City!

Cruise into Boston on a cruise to East Coast America, and enjoy its scenic parks, churches, colonial houses and fashionable neighbourhoods which contrast starkly with the modern skyscrapers of the financial district. The small city centre is perfect to explore on foot where you will discover the hidden charms of the Charles River, the tree-lined streets and illustrious brownstone houses of Beacon Hill; stroll along cobbled streets and visit the boutiques of Copley Square and Quincy Market.

Discover America's birth and colonial beginnings in Philadelphia, home to the famous Liberty Bell. Here, you can visit botanical gardens and modern art galleries. Another East Coast highlight is the town of Charleston in South Carolina- this city has superbly preserved the colonial and antebellum architecture, old gardens and narrow cobbled streets and is the perfect destination for history lovers.

Cruise from Baltimore with its very popular Inner Harbor. Here, you'll find the Harborside shopping pavilion, Oriole Park and the world-class National Aquarium with over 10,500 species. Plus, there are many historical sites nearby including Mount Vernon and Federal Hill.

Many cruises also depart from Miami or Fort Lauderdale in Florida and this gives you the chance to extend your stay in a hotel or even a luxury villa so you can experience all the sights such as the world's best theme parks, shopping malls and golf courses.
Cruise Lines to East Coast of America