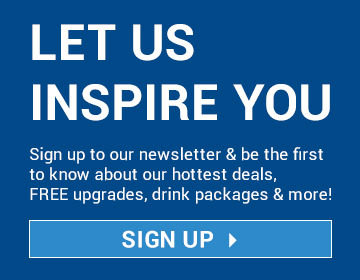 Hong Kong Cruises
A perfect springboard to an Asian cruise adventure, Hong Kong is located at the heart of Asia's cruising map. A cruise to Hong Kong offers you the chance to take in the charms of China, Korea or Japan, indulge in the tropical temptations of Indonesia, Thailand, Malaysia, Singapore and the Philippines. Whichever destinations you choose on your cruise holiday, they are all within easy reach of Hong Kong.
A Taste of Cruises to Hong Kong

14nt -
Luxury Hong Kong, Vietnam & Philippines & Stay
Celebrity Solstice, 28th Nov 22, 14 nights
Includes hotel stay in Hong Kong
,
NEW LUXURY, ALWAYS INCLUDED - DRINKS, WI-FI & TIPS!

17nt -
Luxury All Inclusive Far East Adventure
Celebrity Solstice, 10th Feb 22, 17 nights
5* Luxury Cruising!
,
Includes hotel stay in Hong Kong
,
FREE classic drinks package included whilst you cruise

17nt -
Luxury All Inclusive Hong Kong,Vietnam & Thailand
Celebrity Solstice, 13th Jan 22, 17 nights
FREE All Inclusive!
,
5* Luxury Cruising!
,
Cruise 1st Exclusive Savings!
A Taste Of Cruises to the Far East With Land Tours
Why not add one of our exclusive land tours while in the Far East?
Explore our selection of our land tours!


Explore Hong Kong
Of course Hong Kong is also a fabulous destination in itself, being a port of call on many cruise itineraries, and there is always the option of adding a pre or post cruise stay to your holiday to enjoy all that the city has to offer! On a cruise from Hong Kong, you will see a city of contrasts that constantly surprises, a fusion of East and West, traditional and modern where skyscrapers stand alongside ancient temples and cruise liners share a harbour with traditional junks.

Take a cruise to Hong Kong and you will see that it is steeped in history and there are many places of interest. Enjoy a trip on the century old Star Ferry to Kowloon to view Hong Kong's magnificent skyline across the harbour and browse the shops on Nathan Road. Kowloon also offers visitors the chance to enjoy hiking, horse racing and sailing activities.
Sample the local cuisine at Lan Kwai Fong, a lively street lined with stylish restaurants and trendy bars and take a tram up to Victoria Peak to admire the stunning panorama of Hong Kong Island, Kowloon and the hills beyond.

Take a trip to Lantau Island to see the incredible Po Lin Monastery, home to the world's largest outdoor seated bronze, Buddha is a must for anyone on a Hong Kong cruise. For culture vultures, head to the New Territories and visit places such as The Sam Tung UK Museum or pick up a souvenir browsing the Chinese artwork, silk collectibles and clothing at Stanley Market on the Southern side of Hong Kong.
Another highlight is a visit to Macau; this former colony features a selection of Baroque churches, temples, museums and is also home to the ruins of the St. Paul Cathedral.
Cruise Lines to Hong Kong