Cheap Mediterranean Cruises
The Mediterranean is one of the most popular cruise destinations, and why not, with something for everyone from vibrant cities such as Barcelona, the glamorous French Riviera with St. Tropez, Cannes, Nice and Monte Carlo and not forgetting the cultural delights of Rome, Venice, Florence and Athens just for starters.
Cheap Mediterranean cruise deals
Below are small selection of cheap Med cruises we have available here at Cruise 1st, search online or call for many more Med cruises.
For many more Med Cruises Search online or give us a call.
Cruises to and around the Mediterranean are offered year round thanks to the regions great climates with your Mediterranean cruise enjoying hot summers, warm springs and mild winters.
Your med cruise can either begin by sailing direct from the UK or by flying out to join your cruise with all major cruise lines sailing to the Mediterranean offering a variety of itineraries and durations.
Cruise lines that depart from the UK to the Mediterranean include Royal Caribbean, Celebrity, Cunard, P&O and Princes Cruises with sailing dates available all year round.
For your med cruise summer 2014, you may alternatively decide to fly out to join your cruise. The main ports of departure for fly cruises are Barcelona, Rome (Civitavecchia) and Venice. Other fly cruise joining ports include Palma de Mallorca and Malaga. Cruise lines that offer Mediterranean fly cruises are Royal Caribbean, Celebrity, Princess Cruises, NCL, Thomson and Island Cruises.
Whilst visiting fantastic ports of call, you will be able to take part in the optional shore excursions that the cruise lines offer. These vary from city tours to a trip to the beach as well as venturing more inland such as to the Tuscany wine region or the Pyramids of Egypt. Alternatively, you may just want to relax on deck and make the most of the great weather the region has to offer.
For your Mediterranean cruises 2014, Cruise1st has a comprehensive range of Mediterranean cruise deals of varying itineraries and durations to suit all budgets and tastes, from a cheap Mediterranean cruise to some amazing deals.
What our customers think:
cruise1st.co.uk is rated 4.3/5 based on 1000+ reviews from the last 12 months. Read our Reviews.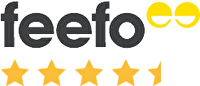 Reviews Score
Our score is based on reviews collected via Feefo, the independent customer research specialist.