Caribbean Cruise Deals
Amazing reductions on some amazing ships visiting beautiful destinations
Amazing itineraries visiting Barbados, St Maarten, San Juan, Grenada,
St Lucia, St Kitts, Antigua plus many more!

The Caribbean is perfect for cruising and gives you the most beautiful Islands to explore on one fabulous sun drenched cruise holiday. You can be as active or relaxed as you like. From bustling local markets to golden sand and palm trees you can find both in the Caribbean. Such a laid back way of life beckons as you wave good bye to stress and escape to beautiful beaches and feel the sand between your toes! The best thing when you're cruising is that you will probably wake up to a different Island on a few mornings!

If you do fancy something a bit different then Eastern or Southern Caribbean Islands are home to some of the most beautiful islands of the Caribbean. Visit Dominica, known as the "Nature Isle of the Caribbean" for its seemingly unspoiled beauty. Explore Old San Juan in Puerto Rico, the second-oldest European settlement in the New World. Go off road through Joe's River Tropical Rain Forest in Barbados and go on a diving excursion in Tortola to Alice in Wonderland, a brilliant, rainbow coloured coral wall that's home to a stunning array of sea life. St Thomas is good if you're sporty then this is definitely for you from snorkeling to hiking, it has it all. Philipsburg is the Dutch capital of St. Maarten, with colonial architecture, historic buildings, great shopping. Not forgetting Jamaica... as well as being well known for the rum, reggae and calypso it has white beaches to relax on and offers wonderful tropical gardens, mansions and an awe inspiring sunset!

We have 100's more Caribbean cruises, search online or give us a call today!
Beautiful beaches are in abundance which ever Island you visit, all lapped by warm, crystal clear waters and fringed with palms. However, there is more to the Caribbean than just the beaches; elegant architecture, exciting excursions, top class golf courses and the warmest of welcomes all await you on your Caribbean cruise!.
We have a superb range of itineraries sailing from various ports such as Baltimore, New York and New Orleans to name but a few and you can even extend your stays either before or after your cruise. Will also have Caribbean cruises where we have included stays in such fabulous places as the Neon City of Las Vegas, or Orlando where you can enjoy the white knuckle rides of the theme parks.
What our customers think:
cruise1st.co.uk is rated 4.3/5 based on 1000+ reviews from the last 12 months. Read our Reviews.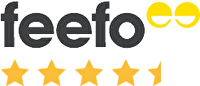 Reviews Score
Our score is based on reviews collected via Feefo, the independent customer research specialist.