Chengdu Pandas, Walls & Warriors
Take this opportunity to explore the Far East and experience its many cultural offerings. Your journey will begin with a 3 night stay in Beijing. During this stay head to Tiananmen Square and into the magnificent Forbidden City, as well as the beautiful surroundings of the Summer Palace. Marvel at one of the seven wonders of the world and experience the Juyongguan section of the Great Wall of China and even step foot on this fantastic structure that was built centuries ago. In the afternoon you will visit the Sacred Way and Ming Tombs, the final resting place of 10 of the Ming Emperors.
Next stop is Xian, you will make your way by bullet train, one of the fastest ways to travel in china with speeds of up to 300km/h and will get you there in around 4.5 hours! Come face to face with the Terracotta Warriors of more than 8,000 soldiers. From here you will take the bullet train to Chengdu where you will visit the famous Giant Pandas and the conservation base enabling you to appreciate their natural habitat and learn more about these wonderful animals. After your amazing experience you will wake up for breakfast then head to the airport for your flight to Shanghai for a one night stay before boarding your 8 night full board Sapphire Princess cruise to Hong Kong.

BEIJING WEATHER
AVERAGE
TEMPERATURE
14°C

HIGH




TEMPERATURE

21°C

LOW




TEMPERATURE

8°C
SUNSHINE
HOURS

13HRS

WALLS & WARRIORS TOUR 2020
| | |
| --- | --- |
| DATE: | 23 April 2020 |
| END: | 12 May 2020 |
| DURATION: | 19 Nights |
| PRICE: | From £2599pp |
| SHIP: | Sapphire Princess |
| HIGHLIGHTS: | The Great Wall of China |
| | |

PACKAGE INCLUSIONS AND HIGHLIGHTS
• 8 DAY FULLY ESCORTED TOUR
• 300mph BULLET TRAIN TO XIAN
• EXPLORE THE SUMMER PALACE
​• DAY TRIP - TIANANMEN SQUARE & FORBIDDEN CITY
• ENJOY THE GREAT WALL OF CHINA
• COME FACE TO FACE WITH THE TERRACOTTA WARRIORS
• VISIT CHENGDU'S FAMOUS PANDA CONSERVATION CENTRE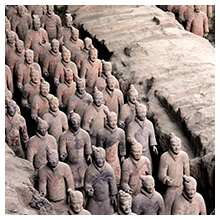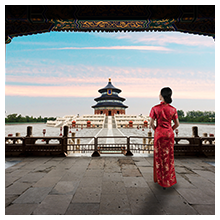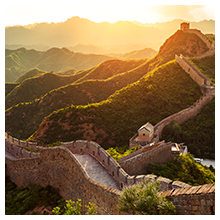 ‣ Fly UK to Beijing (Overnight)
‣ On arrival into Beijing airport, you will be met by your guide and transferred to your hotel for a threenight stay. The remainder of your day is at leisure to start soaking up the local culture.
‣ Head to Beijing's symbolic heart and stroll through Tiananmen Square and into the magnificent Forbidden City. In the afternoon, take a rickshaw ride through the warren-like Hutongs and experience the lifestyle of the local people. Next, wander the grounds of the Summer Palace, the largest and most well-preserved of all the imperial palace gardens.
‣ Today, head out of Beijing to the Juyongguan section of the section of the Great Wall of China, one of the seven wonders of the modern world. Receive a brief introduction on the history of the wall before having the opportunity to walk on this world-famous structure. Next, visit a Jade Factory where you can purchase intricate pieces of this gem before returning to Beijing. Later, visit the Sacred Way and Ming Tombs, the final resting place of 10 of the Ming Emperors. This evening, savour a delicious Peking Duck dinner.
‣ After check-out this morning, transfer to the train station to board your bullet train to Xian, China's ancient capital. Upon arrival, in Xian, you will visit the lovely Little Wild Goose Pagoda before transferring to your hotel for check in


‣ Today, come face to face with the Terracotta Warriors, built to protect Emperor Qin in the afterlife. Afterwards, visit the Xian Arts and Ceramics Exhibition Centre where you can learn how these magnificent warriors were created. This evening, enjoy a delicious Shui Jiao dumpling dinner and watch a spectacular Tang Dynasty Dancing show
‣ After breakfast this morning, transfer to the train station to board your bullet train to Chengdu. On arrival, you will be transferred to your hotel for check-in, where the remainder of your day is at leisure
‣ Today, pay a visit to Chengdu's famous Panda Conservation Centre, allowing you to see and learn about China's celebrated bears up close in surroundings that mirror their natural habitat. Explore the informative museum which gives an overview of the reserves breeding programme
‣ Transfer to Chengdu airport for your flight to Shanghai. Upon arrival, transfer to your hotel for check in
‣ After check-out, transfer to the port to Board Sapphire Princess for your 8 night Full Board Cruise to Hong Kong - Busan, South Korea - Kagoshima, Japan - Hualien, Taiwan - Kaohsiung, Taiwan - Hong Kong - Disembark - 1 night Hotel Stay – Fly Hong Kong to UK (Overnight)
‣ Arrive UK