Calgary Stampede, Rocky Mountaineer & Luxury Alaska
A thrill of a life time mixed on land, rail and sea! Experience the excitement during just two days at one of the Greatest Outdoor Shows, the Calgary Stampede. Some of the highlights from the show will include the afternoon Rodeo where participants will compete in events such as steer wrestling, barrel racing, saddle bronc, calf roping and bull riding. You will also enjoy admission to the legendary Half Million Dollar Rodeo.

WEATHER
CALGARY
AVERAGE TEMPERATURE
24°C

VANCOUVER




AVERAGE TEMPERATURE

22°C
ALASKA


AVERAGE TEMPERATURE

16-18°C
BANFF
AVERAGE TEMPERATURE

23°C

Alaska Cruise & Tour Details
| | |
| --- | --- |
| DATE | Coming Soon |
| END | - |
| DURATION | Various |
| PRICE | Call For Details |
| SHIP | Various |

PACKAGE INCLUSIONS AND HIGHLIGHTS
• HERITAGE PARK HISTORICAL VILLAGE
• FORT CALGARY SITE
• CALGARY STAMPEDE
• PANORAMIC HELICOPTER TOUR
• BANFF GONDOLA
• NATIONAL PARKS
• KAMLOOPS​
​• INSIDE PASSAGE, CRUISING
• JUNEAU, ALASKA
• KETCHIKAN, ALASKA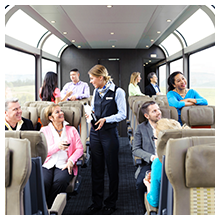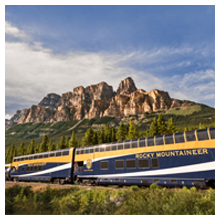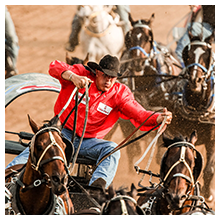 ‣ Fly to Calgary
‣ Calgary sightseeing tour - Heritage Park Historical Village, Fort Calgary Site
‣ Calgary Stampede - Breakfast at Leisure, Calgary Stampede Two Day Thrill Package, Transfer from Calgary Hotel to Calgary Stampede
‣ Calgary Stampede - Enjoy a second day of fun
‣ Begin Rocky Mountaineer Experience -Breakfast at Leisure, Free Day in Calgary with Calgary Tower Admission
‣ Begin Rocky Mountaineer experience - Banff - Breakfast at Leisure, Sightseeing Tour Calgary to Banff -Route 3, an exciting Panoramic Helicopter Tour, Banff Gondola, and a National Parks Pass
‣ Calgary - Banff
‣ Banf - Kamloops - Today you will take a Coach Transfer from your Banff Hotel to Banff Station, Banff to Kamloops - SilverLeaf (Hot meal(s) included)

‣ Kamloops - Vancouver - Continue your train journey from Kamloops to Vancouver in Silverleaf with *Hot meal(s)* included, enjoying some of the beautiful scenery as you go. On arrival to Vancouver, make your way to your hotel for your 2 night stay, with the rest of day at leisure
‣ Vancouver - Day at leisure
‣ Embark your ship for a 7 night cruise
‣ Inside Passage Cruising
‣ Icy Strait Point, Alaska
‣ Hubbard Glacier (Cruising)
‣ Juneau, Alaska
‣ Ketchikan, Alaska
‣ Inside Passage Cruising
‣ Disembark Ship in Vancouver for your flight back to the UK (Overnight)
VANCOUVER, ALASKA AND THE ROCKY MOUNTAINEER WITH RODEO
Get to enjoy some of the best professionals in the sport today taking on the untamed fury of the west's wildest horses in Bareback Riding and Saddle Bronc events and some of the most heart-stopping action the Rodeo has to offer, also being known as one of the most dangerous too. An eye opening and exciting event not to be missed. During the evening, you will be able to enjoy the competition of the Chuckwagon Races followed by the energy of the Grandstand Show and vibrant fireworks display-making for a picture-perfect ending to a day that has been full of excitement and thrills.
Following on from this show stopping two days, continue the journey onto the fantastic Rocky Mountaineer Train, Silverleaf class. Transfer from Calgary to Banff and make your way to Jasper before starting your much-anticipated train journey. Throughout this experience, you will get to see some wonderful sights, from incredible snow-capped peaks in Banff, to enjoying a ride on the Banff Gondola, what a sight! Not only will you get to enjoy some extraordinary scenery during this once in a life time journey, you will also get an exciting opportunity on a Panoramic Helicopter Tour.
Throughout the rest of your journey to Vancouver you will be surrounded by many beautiful mountains and lakes. Arriving into Vancouver, British Columbia, for a 2 night stay you will be able to bask in local music, art and theatre amongst many other activities before your 7-night Full Board cruise.